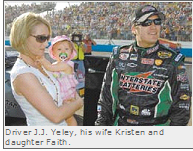 NASCAR's tapping into the nursery set, and a local mom has gotten in on the ground floor.
Tricia Woodson, inspired by her search for interesting baby gifts, opened Baby Fanatic in 2003. The company specializes in sports-related items for infants through age 5.
This year, Baby Fanatic became a NASCAR licensee.
"The demographics are just extraordinary," says Woodson. "I think this is NASCAR's next big push."
Got that right. Products licensed to use the National Association for Stock Car Auto Racing name bring in about $2 billion a year, but the organization is looking to expand its fan base.
"We've done a lot of work in diversity but haven't done -- and it's natural, a no-brainer -- marketing to youth," says Blake Davidson.
Davidson is NASCAR's managing director of licensed products. While the organization has dabbled here and there in young people's apparel and a few toys and games, a comprehensive effort has never been made.
Kiddies, start your engines. NASCAR is out to collect your allowance.
The marketing strategy, which kicked off about a year and a half ago, covers everything from TV shows to plush collectibles to high-speed video games.
"We're all about expanding the audience," says Davidson. "We want to have kids from the time they're crawling."
That would explain the NASCAR sippy cups one Richmond woman spied at Babies "R" Us last week. And the fact that Woodson, at NASCAR's request, added a motorsport line to Baby Fanatic.
Fans now can purchase NASCAR pacifiers, wooden puzzles and growth charts, drawer pulls, curtain rods, car window shades and even chairs that go "Vrrroooom!" when they rock.
NASCAR did its homework, encouraged by the results of a survey conducted by ESPN Kids Poll and Nielsen Media Research. The survey says 61 percent of children ages 7 to 11 are NASCAR fans.
That's a truly impressive figure, especially when you consider it's up from 7 percent in 2003.
"We know the fan base is there," says Davidson. "We just needed to create some products for it."
Those products, some of which already are out and some of which are still in development, are being manufactured by companies such as Skullduggery, Mega Bloks, Team Up International, Shelcore, Revell, Lionel Train, Leapfrog, Specialty Board Games, Reader's Digest Children's Publishing and, of course, Baby Fanatic.
Think NASCAR editions of Monopoly and Uno, model car kits, trading cards, remote control cars and pinball machines.
Think rounded, plastic, brightly colored race cars that appeal to tots as their diecast counterparts entice older siblings.
NASCAR has 'tweens and teens covered, too; its NASCAR 07 video game is being released this week. "That's big for us," says Davidson, "because there's such a wide range of people who play."
Techno Source has just launched a line of LCD electronic racing games such as Superspeedway, Tire Shreddin' and Race Against Time. And a NASCAR comic book, created by Starbridge Media Group Inc., is in the works.
"We've got some pretty exciting things," says Davidson. "We're looking to see what's popular."
Some products, like a power ride-in vehicle that has yet to be developed, are intuitive, he says. Others, like comic books, result from outside-the-box thinking.
People joke around the Charlotte, N.C.-based licensing division about how the 58-year-old motorsport has become an overnight success.
"In truth," says Davidson, "it's in the last five to 10 years you've seen a real spike in [NASCAR] marketing."
He credits recent feature films such as "Cars" and "Talladega Nights" for exposing race car driving to whole new audiences, as well as the fact that a number of younger, more dynamic personalities are becoming involved with the sport.
"You look at what's happening with extreme sports," he says. "NASCAR really is one of the extreme sports. It takes a lot of courage."
Television is another way to speak to a younger market. The NASCAR-commissioned survey found that it's the No. 2-rated regular-season sport on TV among children ages 2 to 11. Only the NFL attracts a larger audience in that age group.
That's why Reel FX Entertainment Group has an animated TV show in development -- the working title is "NASCAR Jr." -- that should be out by spring 2008.
Joe Green and Dennis DeShazer, a co-creator of "Barney," will aim the show at ages 3 to 7.
"If you think about natural play patterns," says Davidson, "children gravitate toward cars. Their parents are driving; it's easy to push a car before they walk.
"It's sort of instinctive."
Playing with cars might be instinctive, but collecting NASCAR items might not be.
Richmonders Frank and Dana Castelvecchi have a 10-year-old son, Eric, who owns a couple of diecast race cars.
"At this point," says his mother, "he has them more because we're interested [in NASCAR]. If we weren't interested, he probably wouldn't be."
"People have this passion about their driver or their school," says Baby Fanatic's Woodson, whose sales have tripled since the company began. "You want to bring this passion into your kids' life."
If things work out as planned, children like Eric -- and their parents -- will be knocking down store doors for NASCAR-licensed toys and games.
"Seven million people will attend a NASCAR event this year," says Davidson. "But we have 75 million fans.
"Most won't even attend an event. We have to bring NASCAR to their homes and to them."
The organization might stop short of a NASCAR kiddy cereal, he says, laughing. "But we'll make a healthy one when we do."

Contact staff writer Cynthia McMullen at cmcmullen@timesdispatch.com or (0804) 649-6361.